I chose dessert again for the challenge. A friend took me out to eat and we shared this dessert. There is coffee cake on the bottom (which is delicious by itself), topped with butter pecan and chocolate ice cream! I know it is not healthy but we all need to splurge from time to time, all in moderation.
Alibb started a challenge about what you had to eat. We can see food from all over the world. Here is her rules to the challenge What is For…
Photo ©CarolDM2018
Dessert is probably the most important stage of the meal, since it will be the last thing your guests remember before they pass out all over the table. ~William Powell, actor
Log in
or
Register
to save this content for later.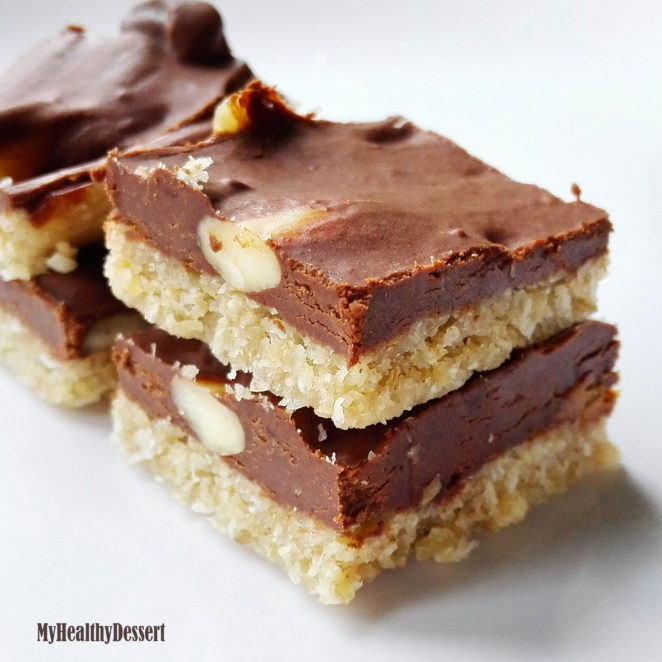 Alibb has started an awesome challenge for foodies. Since there are users from all over the world here on Virily, it would be very interesting to see what everybody has for breakfast, lunch or dinner. Read more about the challenge here.
Maybe you are not surprised that I decided to share what I had for dessert. These bars are delicious, easy to make and don't require cooking. The base is made of nut butter, coconut cream, oat flour, honey and desiccated coconut. The chocolate layer is made of dark chocolate, nuts and a little bit of coconut cream. I have posted the recipe for a similar dessert on my blog, you can see it here. The main difference is that I used coconut cream this time, because I had some left.
Log in
or
Register
to save this content for later.