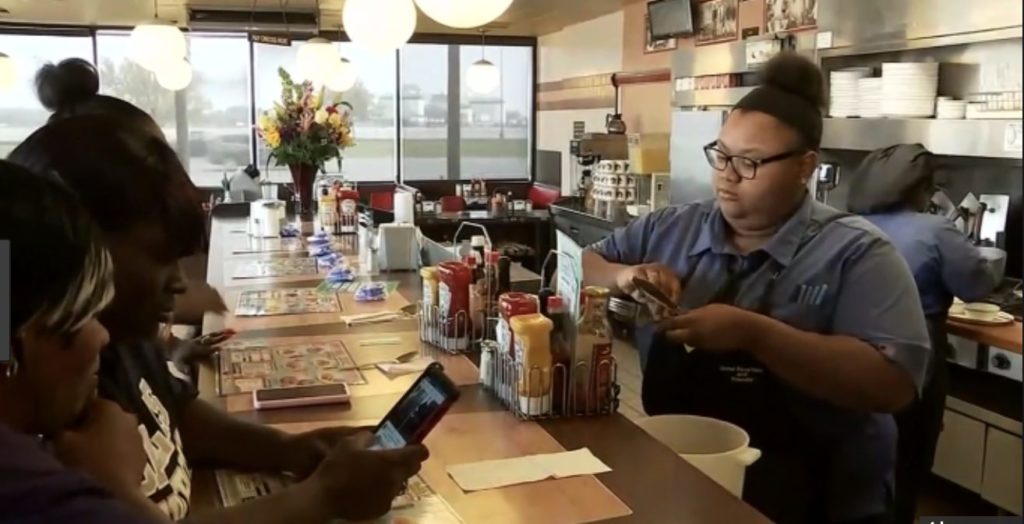 I am sure you are familiar with the slogan "Everybody one day will have their fifteen minutes of fame." In this era of social media, it is true in the case of a La Marque Texas 18 year old student named Evoni Williams who is employed by Waffle House who had her picture taken by a customer when a senior citizen who had a recent operation that made it difficult for him to cut his ham while sitting on a table where Evoni was serving him recently.
Evoni assisted the senior citizen who was carrying an oxygen tank to assist him in breathing to cut up his ham with pleasure as part of her duties working at the Waffle House restaurant since the customer had a condition that made for him to cut up his food. What Evoni did not know is that the image of her assisting the senior to cut up his ham would be on the social media site Facebook by a complete stranger.
Since her good deed to assist a customer cut his ham so that the senior citizen could enjoy his meal went viral, officials at Texas Southern University went to the restaurant where Williams is employed to present her a scholarship of $16,000 that will divided into four years so Evoni can pay for her education in college.
Evoni was overcome with joy when the power of social media made her famous to the point of receiving a scholarship to attend Texas Southern University for a simple good deed of assisting a customer who had special needs to cut up his ham so could enjoy his meal.
It is a refreshing story to share on this site since there are many internet sites that report the horror stories of employees who work at fast food places refusing to serve police officers who are in uniform because of the negative stigma that due to the actions of a few rotten apples in the police force who use excessive force against criminals in the cities that they work in.
Just remember when you are employed in any line of work, you are the representative of that company. Good deeds are rewarded in due time.