Friday, September 15, 2017
I decided to blog about the Top Fall 2017 fashion ideas in California Style Magazine, which is a fashion magazine that I get via the South Coast Plaza mall because I have attended many events at that mall since the early nineties. Anyway, as usual, this September issue is the thickest issue for the year, with 208 pages, and loaded with fall 2017 trends from many fall/winter fashion week runway shows. Many of the trends were listed in the many videos that I posted earlier for this season. But I notice some extra ideas in the magazine, maybe for Southern Cali living style. I also notice that this issue is promoting a lot of current fashion models, in which I am not familiar with most of the younger ones because I grew up with the 80s fashion models. The only young fashion models that I am familiar with are Kendall Jenner, Gigi Hadid, and Bella Hadid because their faces seem to be everywhere.
Models Jordan Barrett and Barbara Palvin pose on this issue's cover to introduce the fall 2017 collection. It also adds that Fall Fashions are filled with bold florals, soft velvets, warm tweeds, and shiny glitter. So, this fall appears to be very festive and cozy. There are also a lot of Paris-inspired fashions throughout the magazine.
I grouped my list of 24 items into 6 groups.
#1

My Edinburgh Clan Plaid–Dun Eideann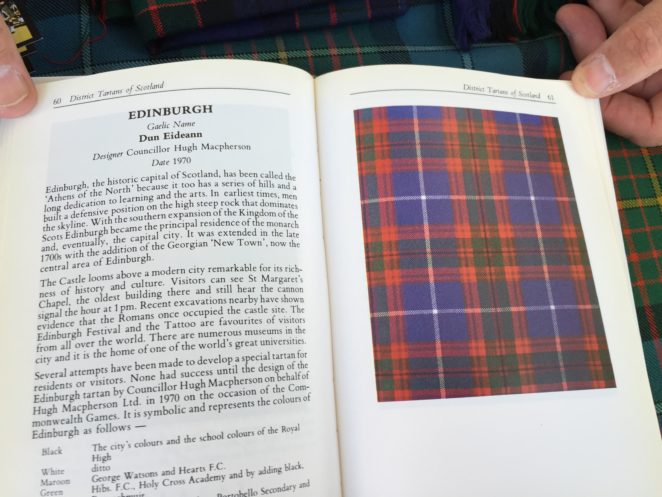 I notice lots of plaid—blankets, scarves, kilts, parka, ponchos, dresses, clothes and accessories. Plaid is also another festive print, worn mostly during fall and winter seasons, as well as popular in the UK at many Scottish festivals. It is also popular with the Irish. Fingerless mittens, arm-warmers, scarves, and slouchy beanies are still popular, which is good because I have loomed a couple when I was into looming items with YouTube videos. The model appears to be wearing all these items in a layered form, which has always been a popular dressing style during every fall season.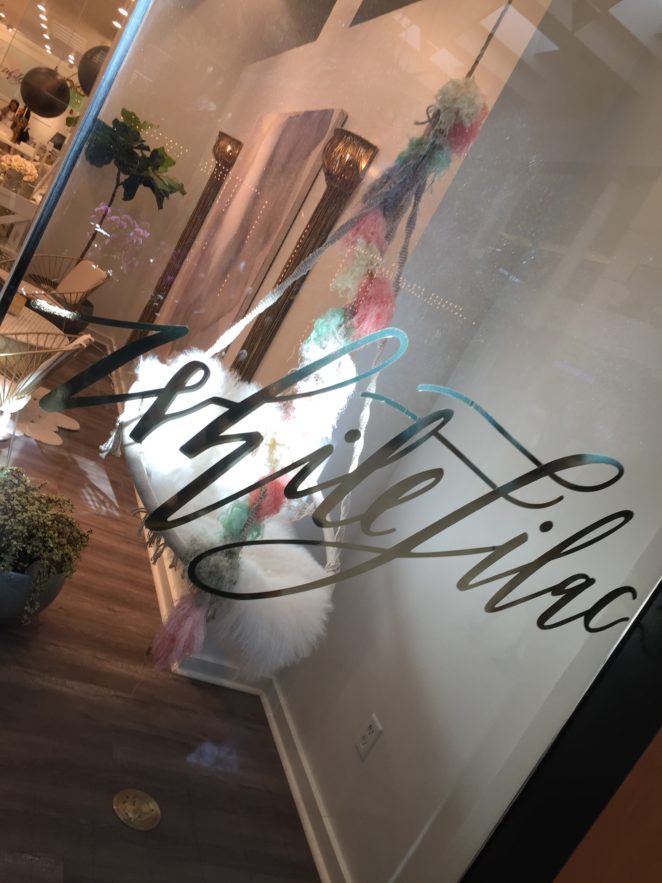 Hoodie jackets, sweaters, and coats are popular for casual-wear.
Dresses in bold floral prints are eye-popping and feminine, but darker than the spring and summer version. There appears to be matching purses and shoes with these dresses for the bold-floral-print monochromatic outfit. But if you don't like florals, then there are other dresses and accessories in bold and colorful prints.
Fake fur jackets and coats are in bold colors as well as pleather jackets and accessories in bold colors.
There are also sheer and flowing dresses with floral prints.
T-shirt dresses are still in style but in velvet. There are also velvet gowns with a high slit on one side, PJ-inspired pantsuit in velvet, and velvet accessories.
There are lots of cozy tweed dresses and jackets with men's-wear inspired prints, such as houndstooth.
#3

Pale Pinks and Bold Florals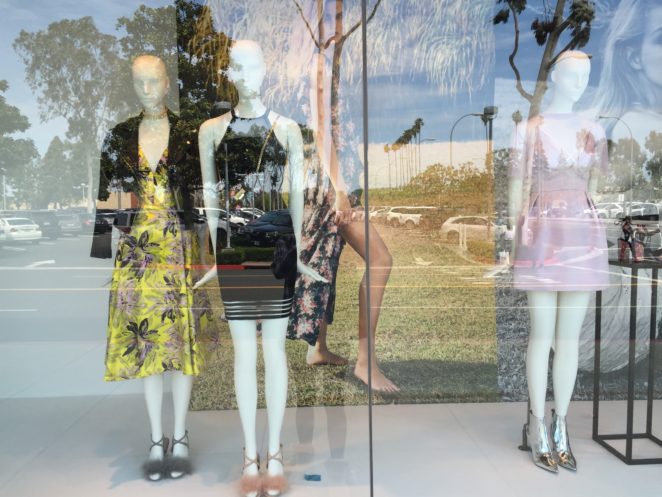 Certain models are promoted in this issue. Barbara Palvin is from Hungary, Victoria Brito is from Brazil, Jordan Barrett is from Australia, Jessica Hart is from Australia, and Hailey Clauson is from Thousand Oaks, California. Rosseta Getty, a former model, is now a fashion designer, talks about her home décor in Los Angeles, California.
I noticed 11 popular styles for fall 2017: Black/White Duality, Monochromatic Red, French-inspired trends, Western-inspired fashions, Shiny Silver, Gold, and Diamonds Glitter, Dark Velvets, Bold Floral Embellishments, Biker-inspired, Native American Indians inspired trends, and Beverly Hills Sophistication.
#4

Green Velvet Pants and blouse, Plaid Jacket, and green beret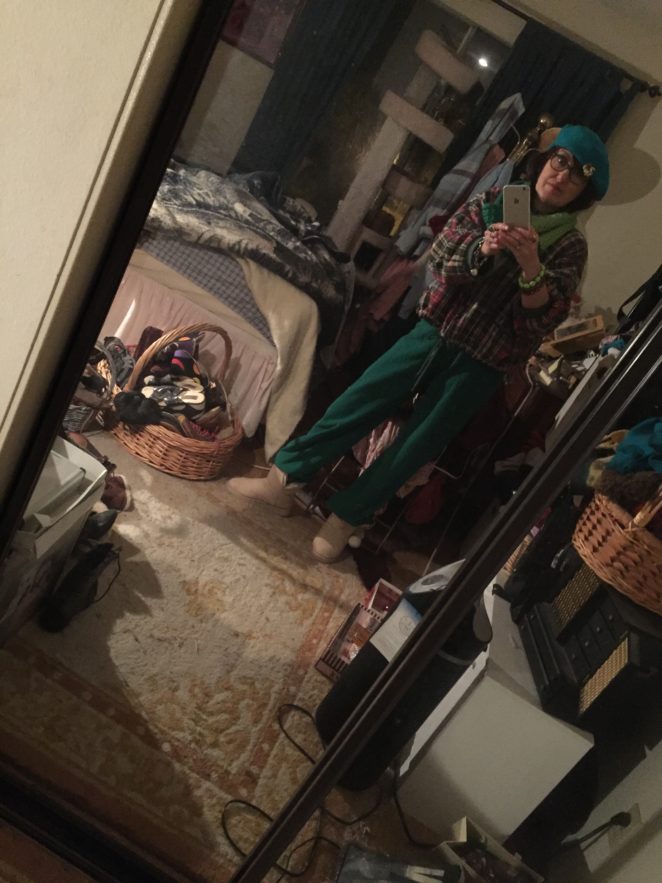 Pleated skirts are worn with a white shirt and a narrow black ribbon tied as a bowtie around the collar, which I think looks like an Amish-inspired.
Embroidered colorful floral design on clothes and accessories.
Bold floral print pants and velvet overalls look bohemian-inspired.
Puffy long coats
Gemmed jewelry with one eye, lips, and stars designs.
Green gems are popular for the fall season, whether jade, Peridot, malachite, emerald, or other green stones. Emerald green gems, surrounded by diamonds, look luxurious.
#5

My straw hat looks similar to the Porkpie Hat style, but mine was from Caribbean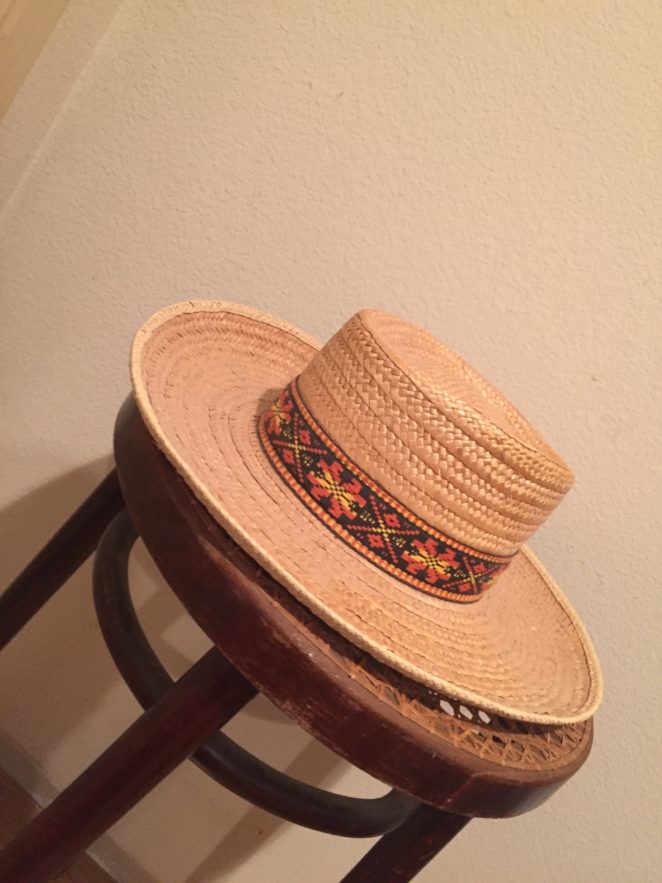 Deconstructed clothes—in which looks like clothes from different textured pieces sewed together to create a different outfit, kind of like a scarecrow DIY outfit. It looks like they went to a thrift store to buy old pieces no one wants, and the recycled everything together to create a new clothing with a past. It has a story about everything it has been through, based on the pieces sewn together from different old items. For example, a red sweatshirt is completed with torn pieces from a red puffy jacket and pieces from a denim jacket. The top part of a red puffy jacket with a hoodie is completed with the bottom sections from a denim jacket. They did the same with pants, which also includes olive-colored cargo pants/military clothing inspired pants and jacket combinations. From these magazine photos, I know understand deconstructed clothing better. I didn't get it before from the recent videos. It is all about recycle the old and worn out, and making something new and different, or making most of what you currently have.
Bold floral clothes are contrasted with pale and romantic makeup colors as well as add a dark velvet bow barrette for hair décor. Or, you might consider a velvet headband.
Many textures and prints are worn together in one outfit, which I think is too much. But I think some of these pieces are deconstructed pieces, which would better as an accent piece to a monochromatic and simple outfit in one color. The deconstructed piece would stand out as a statement piece. I also notice that many rings are worn on one hand, in which I am into currently. These outfits also have a biker-inspired appearance.
Transparent plastic coats, jackets, and accessories continue to be popular. I have always liked such items.
Vintage pink outfits are 50s-inspired. Other monochromatic colored outfits in light olive green, light brown, orange, yellow-orange, and red are also worn in a 50-inspired vintage form.
French-inspired striped blouses, tweeds, denim pants, and lots of braided hair section to create street-wise outfit. To really make it French, consider adding a colorful scarf with ornate design as an accent. A moto vest is also worn with tweed jacket, in which I think is too much, but I would wear my green moto vest with a sweater or turtleneck. Short/jacket pantsuit are still popular. Consider pairing tweets with sequin for an evening outfit. For cooler days, consider wearing your sandals with socks.
Porkpie hats appear to be popular this season. I also notice Native American and Mexican-Indian inspired clothing and accessories.
#6

My late mother's braided wig. (she was an impulse shopper)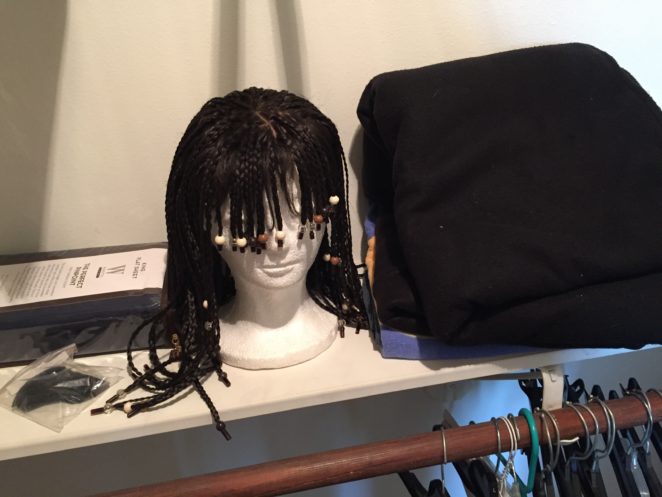 The other basics fall trends for 2017 are still there, which includes long coats, boots of all lengths, midi skirts, pleated skirts, loafers, oxfords, cinching waist with a belt, and other items in recent videos.
I noticed many hairstyles in the magazine, from short pixie hair with long bangs, to bobs—whether straight or soft and natural tousled waves, as well as long hair. I noticed that some long hair had soft waves and it was put in a low and loose ponytail for a romantic appearance, with would look good with pleated skirts and midi skirts.
Log in
or
Register
to save this content for later.