<a href="https://www.themoviedb.org/movie/141052-justice-league/images/posters" target="_blank" rel="noopener">Source</a>
Star – Ben Affleck, Henry Cavill, Amy Adams…
Genre – Action > Comic book
Run Time – 2 hours
Certificate – 1
Country – USA
Awards – 2 Wins & 12 Nominations
= = = = = = = = = = = = = = = = = = =
It looked so good for DC Comics back in 2005 as the brilliant and macho Batman Begins exploded onto our big screens and dragged the comic book movie out of the cape camp 80s and into our hearts. Even the notoriously brutal comic book crowd embraced Bales gravel voiced incarnation, bought stunningly to life by new digital effects and huge Hollywood budgets. But it's been downhill ever since as Marvel and Stan Lee (R.I.P sir) took over the world and ticked up their one trillionth dollar at the box office last year with the latest Avengers movie. Director Sam Raimi nailed the rapid decline of DC as Spiderman with those same digital effects joyously swung Toby Maguire through the Manhattan skyscrapers and that was that, the preposterous Ben Affleck Daredevil and Jennifer Garners Elektra hardly competition. Its reckoned Stan Lee singlehandedly saved Hollywood from financial despair.
The all star team of the Justice League and The Suicide Squad looked like it could get DC back in the Game last year after Wonder Woman had been a pleasing #metoo hit with the stunning Gal Gadot as Hollywood's feminist hero.  DC had reached a new low with Affleck wrecking Batman and Henry Cavill giving Superman woodworm so they needed another big hit franchise. Perhaps if they diluted those two lumps of wood in an all star team from the Justice League comic books the forward momentum could be kept?
===Cast===
Ben Affleck    …         Batman / Bruce Wayne
Henry Cavill    …         Superman / Clark Kent
Amy Adams    …         Lois Lane
Gal Gadot       …         Wonder Woman / Diana Prince
Ezra Miller      …         The Flash / Barry Allen
Jason Momoa  …         Aquaman / Arthur Curry
Ray Fisher       …         Cyborg / Victor Stone
Jeremy Irons    …         Alfred
Diane Lane      …         Martha Kent
Connie Nielsen            …         Queen Hippolyta
J.K. Simmons  …         Commissioner Gordon
Ciarán Hinds   …         Steppenwolf (voice)
Amber Heard  …         Mera
Joe Morton      …         Silas Stone
Lisa Loven Kongsli     …         Menalippe
===Plot===
Batman / Bruce Wayne (Ben Affleck) is licking his wounds after his battle with Superman and laying low in Gotham City. Meanwhile a threat is arriving from mythology as the fearsome Steppenwolf (Ciarán Hinds) seeks out the three 'Mother Boxes' from the three different dynasties of the Gods of Atlantis, Amazonian and Olympus. The boxes were split up between the three realms thousands of years ago to insure he could not get all three boxes and take ultimate power in the universe by connecting them up.
Steppenwolf attacks the realm of Themyskira and steels box one from the fearsome Amazon warrior queen Hippoltya (Connie Nielson), prompting her to call across the realms to her daughter Diana/Wonderwoman (Gal Gadot) to be readied for an attack somewhere. Box two is quickly taken from Atlantis, Aquaman / Arthur Curry (Jason Momoa) and the ice warriors losing out to Steppenwolf and his growing army of loyal cyborgs. One box remains and it's hidden on Earth, the father of antihero Cyborg / Victor Stone (Ray Fisher) the unsuspecting guardian.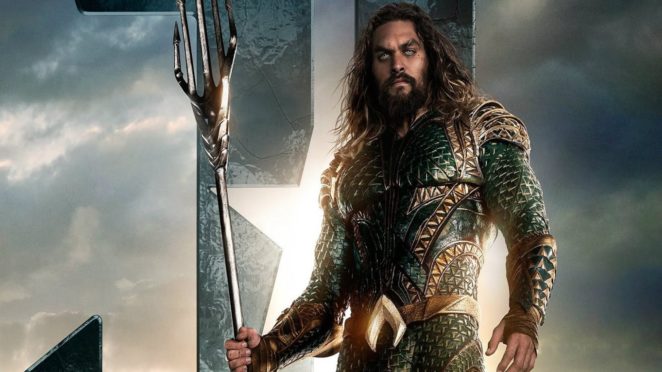 <a href="http://www.tonycinegrafista.com.br/2018/07/warner-divulga-o-primeiro-trailer-de.html" target="_blank" rel="noopener">Source</a>
It's time for the Batman to stop brooding and get a team up of superheroes on Earth to defend this particular realm : The Flash / Barry Allen (Ezra Miller) is more than willing , Wonder Woman and Aquaman on board and Cyborg talked around to defend good against evil as an alien entity inside continues to morph his body. But their first clash with Steppenwolf to keep the cube goes badly wrong and so it's time to bring the ultimate Superhero of all time back to life to save the Earth!
===Results===
The critics panned DC's Suicide Squad and they panned this. I guess broadsheet and cinema critics alike are comic book geeks at heart from their youth and so want it to be right. To be fair Suicide Squad wasn't too bad and the better of the two although the Justice League did fall a big flat compared to the big budget Marvel spectaculars. It's just no contest in the DC V Marvel War. Now that would be a movie to see!
I enjoyed this to a point but the DC vibe has always been too worthy and stuffy for me and the core superheros of Batman and Superman are just that here. Henry Cavill is as stiff as Bill Clinton at an intern rally and Affleck truly terrible in most of the action movies he has ever done caching flies in his slack jaw gob. Even the suicide of the daughter of directing team Zack and Debbie Synder could not stop the critic of the film's release as they left the project to Joss Wheldon to finish up as they mourned the death of their kid – and film.
Its action packed but so many cool Marvel films have gone before and so it has to live up to them to get backing and punters on seats. It cost a mind boggling $300 million although it did $650 million back and so someone liked it. It lacks that tongue-in-cheek Marvel humor of not taking itself too seriously as DC remain po-faced ion most of their movies.
===RATINGS===
Imdb.com – 6.5/10.0 (293,234votes)
Rottentomatos.com – 40% critic's approval
Metacritic.com – 45% critic's approval
===Trailer===
https://www.imdb.com/videoplayer/vi2454436121?playlistId=tt0974015&ref_=tt_ov_vi