Is this Electoral Victory of BJP in Himachal Pradesh and Gujarat an another Milestone towards their prime Objective of Congress Free Nation. After getting massive victory in the 2014 General Election ,It is assumed as well as believed that BJP's Central Leadership managed to  follow the Path of Victory somehow after the count down of Final result of this Twin State Assembly Elections.
The party that led the country's Freedom Movement may not today as it's stature was the then period ,but still this Party's glorious tradition echoes on each political Battlefield today. After being sworn in as the National President of the Congress Party this Twin-Assembly Election was absolutely challenging in which Rahul Proved his metal. Even before Being the President, Rahul had openly accepted this Challenge.
Political Pundits should not forget that during the last Himachal Pradesh Assembly Election Rahul took the charge of Campaign and could able to manage to win his Chief Ministerial Projection of Mr. Virbhadra Singh during his tenure of Vice President in the Congress Party. But in this Twin-State Election Challenge ,realizing the importance of Gujarat ,Rahul devoted more in Gujarat than Himachal Pradseh which also clearly reflected in the final result of count down in this Twin State Election.
In the Last Loksabha Election ,Indian Republic had had witness this Twin- Face (Rahul Gandhi & Narendra Modi) as the projected leadership under which this Election was fought.
Switching over from the position of Vice President to the President not only his own image but also the entire Congress Party's image of trust, believe and faith lies on Rahul Gandhi. Now even the distress of defeat and the glory of Victory he is solely responsible that he knows better than any one. Therefore in the future course of Politics, his Strategy must be wisely worked out with his utmost maturity to win the further Political battle ahead.
The responsibility of defeat in these current state assembly Elections lies on Rahul's accountability which can be never denied. We should not also forget the victory of BJP in Himachal Pradesh is not at all a miracle. It is just a traditional political result which has been repeating in the way of 'Water Cycle' since more than two decade. As per this tradition ,5years of past  Congress regime switched over to  BJP for an another 5 years.
Even voters, Political Leaders including parties  can not deny that this win of BJP in Gujarat  is just manageable as BJP's claim of as many as 150 seats has been punctured. It is absolute to believe that each and every issue of this NAMO's Home-Land was positive and in favor of BJP but despite of all these  positiveness and better political Equations ,BJP only could manage to win over 99 Assembly seats out of total 182.This manageable victory reflects and reveals the Political truth of Gujarat BJP really lost as much as 16 seats in comparison to their last time Assembly Election seats  had gained in Gujarat. And Congress having numbers of negativity could able to win 19 more seats in comparison to the last Assembly Election result in Gujarat.

BJP in Gujarat was ruling over Two decade with the tag of 'Modi's Gujarat Model'. But during the campaign in Gujarat ,India has witnessed the political impact of implementing Demonetization and revised  GST which put BJP in trouble and marked with hurdles like Audience less Meetings and rallies.
On the other hand Congress party could able to manage the much needed support of Hardik Patel along with accompany of Alpesh and Jignesh which credit goes absolutely to Mr. Rahul Gandhi's Young Political attitude. Extremely low profile voters like Dalits and people of Poverty ridden including farmers anger and agony against Gujarat-Model did echo during this Gujarat Assembly Election.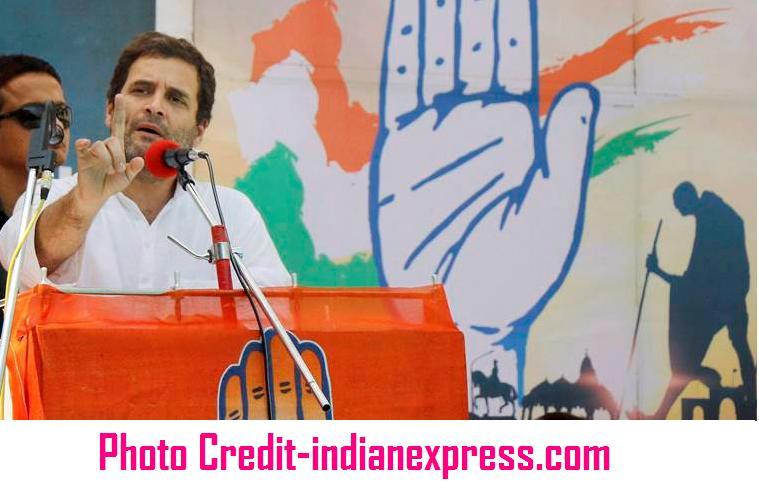 Congress party proved it's metal of Rahul not only by getting 19 more seats than the last Gujarat Assembly Election  but also managed to avail more vote percentage .Indian Republic Should not see it as a loss but as a refurbished political innings initiated by Rahul Gandhi.
Out of the total 182 seats BJP required 92 to form the government in which they could able to win just 99 which is not all glorious or massive one.As per a political Analysis ,it is also difficult to analyze this victory of BJP as a victory in the name of Development or in the name of Gujarat Model  of Modi Jee.
But in Himachal Pradesh ,BJP's victory seems more than their own expectations as out of total 68 ,BJP could able to snatch massive 44 leaving the Congress behind with mere 21.Post analysis of Himachal Pradseh election result Congress lost as many as 18 more seats and BJP gained a huge 18 more seats in comparison to the last Assembly Election. This huge victory of BJP only black marked by the defeat of their Chief Ministerial Projection Mr. Prem Kumar Dhumil from Sujan pur Assembly seat which seems unfortunate but least concerned here in party line.As it is believed everything is fair in the war of Indian Elections to win which unveiled by this loss of BJP veteran in the state of Himachal Pradesh.
Because the Man who caused the loss of Dhumils Assembly seat was also a close associate and follower of him whose name is Rajendra Rana of Himachal Pradesh.
It also can not be foretasted that whether BJP will continue Dhumil's leadership for the state of Himachal Pradesh or a new Political  commander-in-Chief will be searched by the central leadership of the BJP.After the Twin-Victory of BJP ,both the  National Parties  of India need to short it out their respective political Strategies strongly and carefully.
Before 2019 General Election Congress BJP have to face the battle of Assembly Elections .This row of victory by BJP will continue in future is really difficult to analyze now. 
It is also like a hard nut to crack that whether BJP's victory March will lead towards their desired dream of making India Congress free ??? 
The party in power sometimes  looks direction less if the opposition does not able to oppose constructively.
There is  also no such political party  in the country which can provide Indian Republic to play the role of Constructive Opposition other than the Indian National Congress. The importance of and Glory of Congress party must remain in the country who led this nation towards the way of Freedom. But it is true to believe that like BJP ,there are many political parties in the country who always plan to make India Congress free. In India BJP is ruling over as many as 14 states alone on it's own strength. It may also possible in future to finish congress in India if this kind of victory March Continues. Who even imagined that Mamta Banarjee could able to defeat the mighty Two decade old Government under the arm of Communist party under the leadership of Late Shree Jyoti Basu in West Bengal. This also absolutely a Golden Period of BJP where it's victory March continues relentlessly but it can expected to continue in future which can not be  perfect Foretasted.
Log in
or
Register
to save this content for later.