The great advantage of wintering in the United States is that you can choose whether to spend your holiday on the snow or the sand. If you don't like low temperatures, Hawaiian Islands, California, and Florida are waiting for you. On the other hand, if you are barely waiting for winter and enjoy skiing and all other winter sports, the US ski resorts are among the most beautiful and best-equipped in the world. Choose your destination wisely and enjoy!
1 – Through North Alaska
Winter is an exciting time in Alaska, especially north of the Arctic Circle. Bring your family or friends, take a train, and explore Alaska, the true wonderland during long, cold winters. Unreal blue sky and ivory-colored scenery will take your breath away. Don't miss coming to Fairbanks and experience the Aurora Borealis. Enjoy dog sledding, cross-country skiing and ice climbing in Anchorage. Visit the Aurora Ice Museum full of snow. It is definitely the 'must see' place in Fairbanks where you should try a cocktail served directly in crystal-like ice glasses.
2 – Skiing at Jackson Hole, Wyoming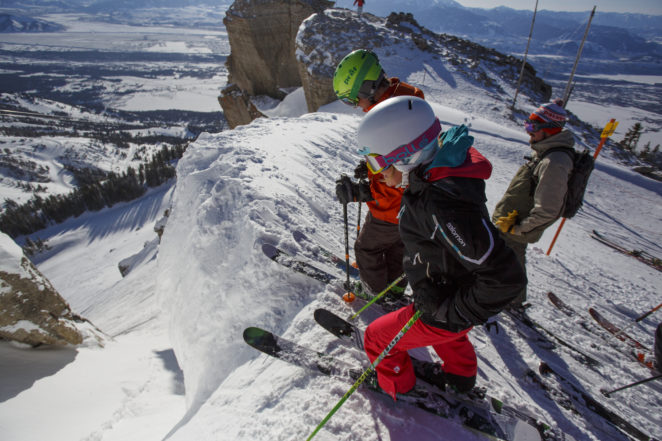 If you are one of a passionate lover of snowboarding and skiing, come to Wyoming for the first-rate mountain experience in the US. There is plenty of snow here, and you can enjoy one of the most popular ski resorts worldwide with impressive 459 inches of snowfall a year. With extreme terrains such as Corbet's Couloir, this place is established as a paradise for top skiers. However, there is no reason for concern if you are a novice either. With plenty of trails for beginners, Jackson Hole is the beautiful ski town for a family vacation.
3 – Snow enjoyment in Whitefish, Montana
If you are not one of those people who choose to sunbathe near the ocean in December but prefer discovering all the winter magic surrounded by snow, Montana is the best choice for you. Whitefish is an ultimate winter destination for families who enjoy winter sports regardless of whether the members are the top skiers or just enjoy making a Snowman and like snowballing fight. During a visit to this beautiful place, visit the Glacier National Park. Organize your own incredible adventure and go there using snowshoes.
4 – Breckenridge, Colorado
Breckenridge is neither biggest nor most popular ski resort in the US, but the perfect location of this small city at the foot of the mountain makes it almost the ideal place for winter family vacation. The adventurous spirit of this Victorian mining town will impress you so much that you will always want to come back here to re-discover all these adorable shops along the walkable main street. Rent snowmobile, go to a local museum, enjoy carriage rides, and attend one of the many international events. Let your child participate in the ice sculpture competition or spend amazing family time at the outdoor skating rink.
5 – Park City, Utah
This 'synonym for winter activities' and one of the most significant ski resorts in the US is positioned only half an hour drive from Salt Lake City where the Winter Olympics in 2002 took place. Become a part of a crowd which comes here to spend an exciting vacation enjoying snowboarding, sleighing, skiing, and a sensational bobsled riding. Be sure to visit their Historic Main Street. This vibrant area is overcrowded with restaurants and cafes, but you also can spend your spare time buying books in numerous bookstores or glistening accessories in their elegant boutiques.
6 – Unforgettable road-trip through Oregon
Become a witness of seven unique wonders of Oregon. Begin your 363-mile journey in Astoria, probably the oldest known settlement in the US west of the astonishing Rocky Mountains. Fall in love with the Ecola State Park while admiring coastal mountains from the Indian park. Dance with jellyfish in the Oregon Coast Aquarium and go to Shore Acres State Park to play with sea lions. After an exciting day, eat your meal in the biggest cheese factory in the globe. Hug someone special during a spectacular winter storm, while trying to overtake primeval awe in front of towering waves.
7 – Hawaii, the heavenly kingdom
Pick out any Hawaiian island to spend your vacation between the New Year and April, and you will have the opportunity to enjoy the migration of humpback whales. Imagine that pleasure and privilege to get away from cold winter and enjoy watching whales nursing their babies in the warm Hawaiian waters at the same time. Go to see the Haleakalā National Park. During visiting Haleakalā Crater, you will relocate yourself out of this world at least for a moment. Enjoy amazing viewing while sailing between Maui, Molokai, and Lanai islands. Don't miss tasting the nearly collected seafood in any of the restaurants with the breathtaking oceanfront view.
8 – Saint Augustine Beach, Florida
Florida is probably the most desirable summer destination in the United States, but thanks to the beautiful mild climate, it is also the ultimate choice for those who don't want to spend winter freezing. Whether you choose to book your winter vacation at Daytona Beach, Palm Beach, Amelia Island, Marco Island, Miami Beach or Cocoa Beach, you won't make a mistake. However, Saint Augustine Beach is something special and top-notch winter beach vacation. This quiet little town is a place of choice for anyone who really wants to relax. Spend time overlooking the ocean and find seashells. Stroll through cobblestone streets while admiring a rich history, take a bike ride, and enjoy the charm of the National Monument Castillo de San Marcos. And simply enjoy.
9 – Lake Tahoe, California
Spending a 'summer holiday' in the middle of winter is the desired dream of many. I know that Long Beach is the most popular destination in California, but Lake Tahoe is, without any doubt, an ideal winter vacation spot for a family. Choosing between more than ten ski resorts there, you can pick out the South Shore, the epicenter of the action, or a pleasant wilderness of the northern shores. You certainly won't be able to swim in the lake during the winter months but discovering attractive lake locations will bring you much pleasure. Don't miss Squaw Valley, the top ski destinations where the Olympic Games were held in 1960.
10 – Port Isabel, Texas
This gorgeous city near the Mexican border is located on the lovely Gulf of Mexico. Spend an affordable and unique winter holiday enjoying the mixture of rich culture, old pirate legends, historical attractions, and warm winter vacation. Pretend that you are a sailor at the famous pirate ship Black Dragon. Spend a day exploring marine life and playing with sea creatures. Search for a lost pirate treasure, climb an actual lighthouse or go fishing. The opportunities for entertainment in this magical place are endless.
Useful Tips for International Travelers
If your country is one of 38 involved in the Visa Waiver Program, the first question you should ask when deciding to travel in the US is: 'When I need ESTA application'? The answer is: 'Every time you visit the US regardless of whether you are traveling for tourism or business reasons.' Since the US government decided to introduce this program on January 12, 2009, citizens of Visa Waiver Countries only need a valid passport with a digital chip. They don't need a visa anymore. This program implies previous screening of every visitor before boarding. Therefore, to avoid any inconvenience, check ESTA application and the validity of your passport before signing up for coming to the US. The US authorities could also demand some additional security features as well. This application will allow you to spend up to 90 days in the United States.