We spend quite a time in the kitchen, so we want the kitchen to be cozy and aesthetic. Nonetheless, kitchen repairs require quite a lot of investment. I have for you some tips on how to easily make a luxury kitchen without wasting money. In this space, even small details can mean quite a lot.
One of the most important elements that change the space very much is the color of the walls chosen properly. It is great to paint the walls in enough light color – the space immediately starts to shine and the kitchen room looks much larger and more luxurious. If you decide to enlight also kitchen furniture, it will give even a more impressive effect. In addition, light colors great reflect natural and even artificial light, they also hide many disadvantages of the furniture, such as spots, scratches, irregularities and other defects in old cabinets.
Provide proper kitchen lighting. Although often different chandeliers or other luxurious luminaries seem to be completely inappropriate for the kitchen, in fact, this is a great choice, because they not only illuminate your space well but will always raise your mood. Since standard kitchen lighting is usually the same, do not be afraid to experiment and dare to give the room more personal and unexpected elements.
Keep your windows clean. After all, you can make the whole kitchen to perfection, but if you do not pay enough attention to the windows, if they are not clear and dusty, then all your efforts to create the perfect kitchen will be worthless. Even the interior design created by designers will not fit. At the windows do not forget to fit small cozy kitchen curtains.
If you do not want or can not buy new furniture, then you can take care to update the old one. The fittings can fully change the appearance of furniture. Properly used, it will give a completely different luxurious face to your kitchen. Also, change the cabinets and drawer handles courageously. This little thing greatly changes the space, gives it a new look.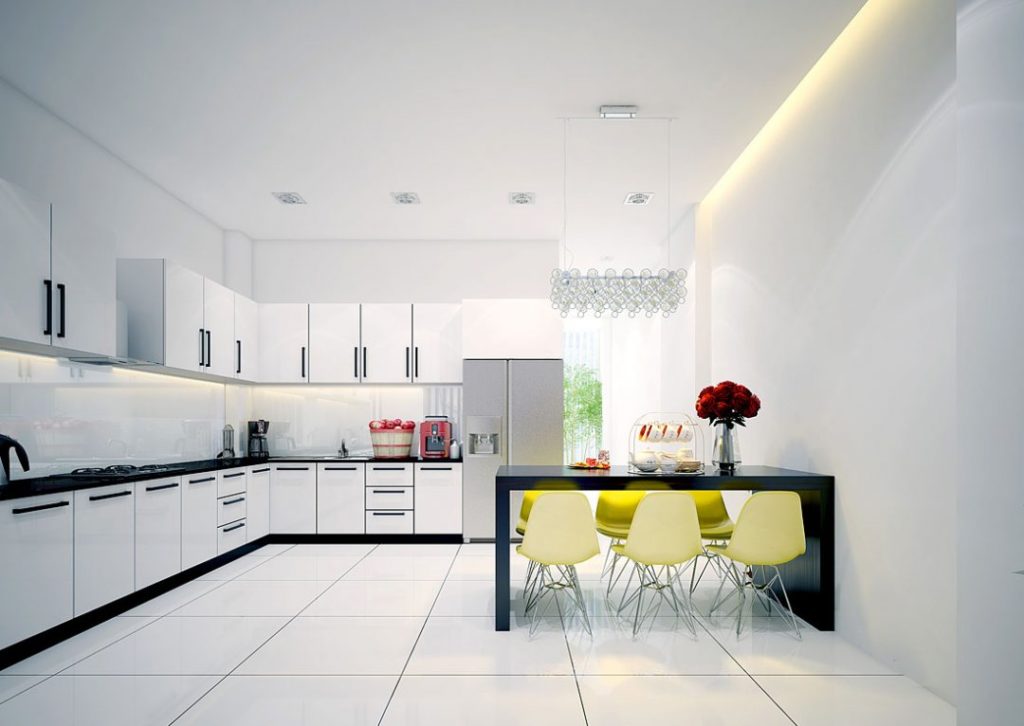 If your kitchen set is already old and worn out, but you do not want to change it, then just put the new cabinets doors. You can also sandpaper them and repaint them. After these works, your kitchen will really look completely different. When replacing the door, use glass or other glossy surfaces – this will give the room a touch of luxury. In a few places completely abandon the door, leave an open shelf. This way you can highlight your most beautiful kitchen secrets.
Refresh not only walls and furniture but also household appliances – paint them all in stainless steel. All you have to do is buy stainless steel, and you can cover all appliances that are still in operation but do not really give the beauty to the kitchen. Of course, here you need to be careful because different companies produce different types of this type of paint. Therefore, purchase them according to the device and the features of its use.
Take care of the stylish, original and luxurious dining room. Decorate this place with cushions, make a table with live flowers, place a beautiful porcelain dish or a subtle tray with fruit composition. All this will give you a sense of comfort and luxury. Avoid placing any small appliances on the table. Put the bread toaster, shredders and the food processor in the enclosed cabinets. This trick will cost nothing but give you a sense of space and lightness. No one else is distracting more than chaos or mess.