Genre – Comedy
Run Time – hr minutes
Certificate – TV15
Country – U.K
Awards – 2 Nominations
= = = = = = = = = = = = =
So Mindhorn, a BBC Films/Netflix collaboration from the creators of the rather surreal British TV comedy series The Mighty Boosh, chief writer Julian Barratt of both that and this film also starring in the lead here as a washed up TV actor from the show Mindhorn, a fictional Isle of Man detective who has a bionic eye that can detect the truth, but doesn't seem to help his police work much.
The movie is set on the Isle of Man off the west coast of England and director Sean Folley admits that it's a gentle send up of the TV series Bergerac, starring John Nettles, also set there. There was a lot of very bad cop series around in the 1970s and 80s and so plenty of comic potential.
===Cast===
Julian Barratt   …         Richard Thorncroft
Simon Farnaby            …         Clive Parnevik
Essie Davis      …         Patricia Deville
Steve Coogan  …         Peter Easterman
Richard McCabe         …         Jeffrey Moncrieff
Andrea Riseborough   …         DS Elena Baines
Russell Tovey  …         Paul Melly
Robin Morrissey          …         PC Green
David Schofield          …         Chief Inspector Derek Newsome
Christopher Jenner Cole          …         Richard Crowthorne
Kenneth Branagh … Kenneth Branagh
Harriet Walter …         Richard's Agent
Simon Callow …         Simon Callow
Mary Brownlee …Jasmine
===Plot===
It's the late 1980s and actor Richard Thorncroft (Julian Barratt) is at the peak of his career in the TV series Mindhorn, the crime fighting adventures of The Isle of Mans most dynamic detective. There is on only detective, alas.
30-years later he is living in a dingy bedsit in London and hasn't done a great deal of notable acting work since, balding, 20 pounds heavier and very bitter, reduced to adverting embarrassing products off the back of his 1980s fame to pay the bills. But things may about to change when Thorncroft is told to go back to the Isle of Man by his booker where she has a job for him, involving the reincarnation of Detective Bruce Mindhorn. But it's not a new series or feature film to rescue his career but the police want him to go into character and help draw out a deluded serial killer, Paul Melly (Russell Tovey), who says he will only speak to Detective Mindhorn, not realizing that Mindhorn is fictional.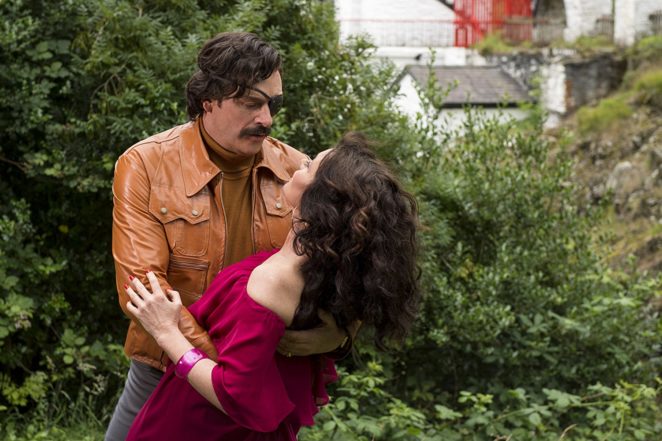 On arrival Richard checks in with the cops and then sets out to reconnect with his Mindhorn co-star and former lover Patricia (Essie Davis) who still lives on the island, but discovers she is living with his former Mindhorn stuntman Clive (Simon Farnaby) and Patricia and Richard's estranged daughter Jasmine (Mary Brownlee). Another of his Mindhorn co-stars, the arrogant Pete Eastman (Steve Coogan), has been staring in a successful spin-off series ever since and has the biggest house on the island, Thorncroft bitter some more.
Richard makes phone contact with the killer under full police supervision – and Mindhorn get up – but soon bungles that. But the 'alleged' killer contacts Thorncroft away from the police and appears to be innocent and so Richard decides he really is Mindhorn and intends to crack the crime, causing yet more disturbances across the island as a wider conspiracy unwinds under increasing heavy drinking.
===Results===
I really enjoyed this and funny in that British spoof way. I had never heard of the lead actor and that kind of makes this funnier as this film is probably, like Thorncroft, Barratt's biggest role ever after a journeyman career and so also glad of the opportunity to prove he is not just a one trick pony and has actual acting chops. Steve Coogan hangs back with his smaller part to allow Barratt to shine and only in the movie to sell it, I guess. Character actor Simon Farnaby (The Detectorists) has carved out a career in television playing d*cks and a good foil here to keep the plot moving forward. Andrea Riseborough , who plays a female detective, is another talented actress increasingly popping up in British film and TV and was an airhostess in her thirties until she turned to acting five years ago, all putting in entertaining comic turns.
Barratt nails the self-important out of work actor living of past glories and funny throughout, humor, pathos and cringiness in equal measure. It's the sort of character Coogan would have loved to have invented. Centering it on the Isle of Man means it can't wander off too much into silly subplots and so remains taught throughout. Even the love interest fit in the way they should, Essie Davis as Patricia Deville particularly sexy on screen as the older mature woman.
On the whole good fun and one to look out for on your movie package and out on DVD. Because it's BBC Films I guess it won't take long to cycle through to be on the BBC and worth the wait. What I like most about this film is its original and it actually got made and a rare time that I actually laughed at something made by the BBC.
===RATINGS===
Imdb.com –6.3 /10.0 (7,574votes)
Rottentomatos.com – 91% critic's approval
Metacritic.com –70% critic's approval
===Critics===
Independent –'The comedy, like its hapless actor and TV detective hero Richard Thorncroft (Julian Barratt of TV's The Mighty Boosh), manages by turns both to be funny and charming and seedy and dispiriting.
Times UK –'A delicious central premise and a thoughtfully crafted protagonist are ultimately betrayed in this scattershot comedy from the Mighty Boosh stable that's all promise and dwindling rewards'
Sight & Sound –'Mindhorn is carried off with infectious gusto, and Barratt throws himself into the follies of the lead role with a lack of inhibition that suggests the reverse of the actorly conceit he's portraying'.
Little White Lies –'Just brilliant. Barratt delivers a comedy performance for the ages'.
The Mail –'As a comedy, it's laugh out loud funny, as a homage to more innocent TV days it's enormous fun and it even manages the odd moment of pathos'.
==========