We may pass right past it, but many of us have not even laid eyes on this 400 year old monument.
It is located at the right side of the street left of Loggia, you visit it from the 25th of August street direction to Saint Titus square.
The female figure depicted, holding a club in her right hand and a shield in her left, symbolizes Crete according to Gerola.
It was built by Giovanni Sagredo, Duke of Crete, between 1602 and 1604 a.C. to offer water for the nobles visiting Loggia.
A beautiful ornamented trough was built into the fountain, but it was destroyed during a bombing of the Second World War.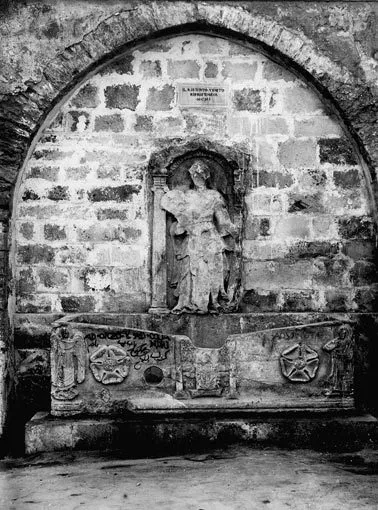 About Heraklion Project*:An initiative born in 2017, in order to showcase the points of interest, the monuments, the sculptures and museums of this historical city.Heraklion: the capital city of Crete island. Vibrant, cultural, multi-faceted, colorful, let's explore it together!
Our growing community has more than 10500 members on social media!
Source and further reading: https://aboutheraklion.com/sightseeing-in-heraklion/fontana-sagredo-in-heraklion