The Regent's Park is one of London's Royal Parks, has 410 acres and it was designed by architect John Nash in 1811. It is an amazing and lovely park where you can see wonderful rose gardens.
There is also the largest sports arena in London where you can see games of football, softball, and rugby and there is a cricket pitch.
In this park, you can also encounter bird species and waterfowl. The Open Air Theater offers performances from May to September and you can go boating on the lake. If you happen to be hungry you have your choice of several cafes – The Garden Cafe, The Honest Sausage (love the name of this one), The Boathouse Cafe, and the Tennis Centre Cafe.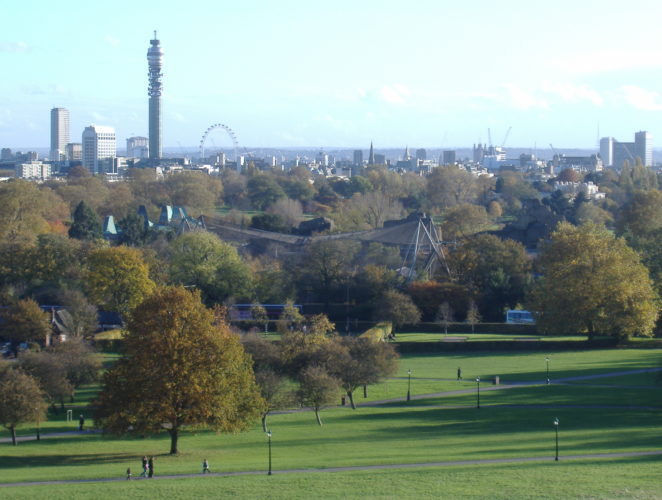 If you are into viewing lovely sights then the top of Primrose Hill is for you because it offers a fantastic panorama across central London.
The Regent's Park has a very interesting design as it has an outer ring road which is known as the Outer Circle and an inner ring road known as the Inner Circle. To the south of the Inner Circle, you will find Regent's College.
In the northern part of this park, there is Regent's Canal which makes a connection to the Grand Union Canal onto the former London docks.
The park also offers visitors lovely fountains like The Triton Fountain. This is a group of bronze sculptures, depicting a sea god, Triton blowing a conch shell with two mermaids at his feet.
There is also a delightful one known as The Boy and Frog Statue sitting in Queen Mary's Garden.
I'm a great zoo fan and never pass up an opportunity to go to a zoo especially when traveling. Located in the Regent's Park is the London Zoo which is the world's oldest scientific zoo. It opened on April 27, 1828, and was meant for scientific study but opened to the public in 1847. Nowadays this zoo is home to 755 animal species and with 16,802 individuals among them and it has become one of the largest collections in the U.K.
At the zoo, you can commune with tigers, lemurs, pygmy hippos and even penguins. Explore exciting things like The Land of the Lions, Gorilla Kingdom, and Tiger Territory among many others.
The park has a number of terraces which were all designed by architect John Nash. Within the Regent's Park, nine villas were built. Among the ones still standing is Grove House which at present is a private residence. This house can boast about having one of the largest gardens in central London right after Buckingham Palace. Its garden goes along the edge of Regent's Canal.
There are some buildings around the Inner Circle. St. John's Lodge which is a private residence owned by Prince Jefri Bolkiah of Brunei and a part of its garden has become a public garden to be enjoyed by everyone.
The Holme also a private residence opens its garden several times a year. Regent's College which is considered one of the two largest building groups in the park alongside London Zoo and it also has its campus in the Inner Circle.
The Regent's Park is also associated with books and films. In the ever-popular Walt Disney's "One Hundred and One Dalmatians," the Dalmatians Pongo and Perdy lived with their humans near Regent's Park and that is where they would all go for walks.
In the James Bond novels by Ian Fleming, there is mention of the M16 headquarters being located near The Regent's Park.
Even Harry Potter got into the action. In the movie" Harry Potter and the Philosopher's Stone" when Harry celebrated his cousin's birthday at the London Zoo.
So if you happen to be touring London and want to get a nice view of the Regent's Park do take a walk to The Queens at 49 Regents Park Road. This two-story restaurant has a pub downstairs and a fabulous dining room upstairs from which you can see amazing views over Primrose Hill.
Log in
or
Register
to save this content for later.